In November, we recorded 57 completed transactions related to the North American M&A market in 12 different industries. The overall market activity was at a slightly higher level than in the previous month. With 18 completed deals, Healthcare was the most active industry.
As always, our focus is on those operationally-intensive industries that are of interest to our clients, like utilities and manufacturing.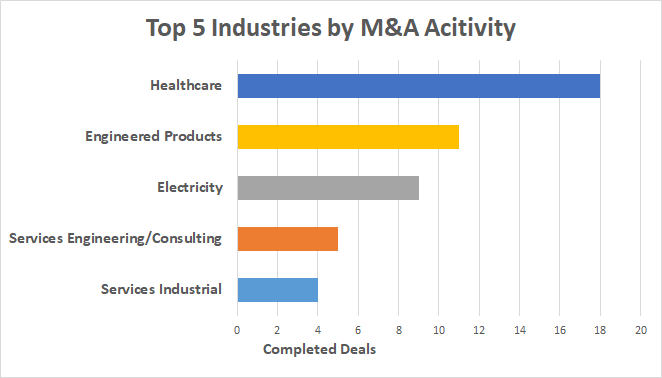 Utilities
There were 12 completed transactions in the utility industry last month. By far, the most significant deal was Berkshire Hathaway's acquisition of Dominion Energy's gas transmission and storage assets in a deal worth $8.0 billion.
Oil Industry
Only one transaction was completed in November in the oil industry. It was Southwestern Energy Company's acquisition of Montage Resources.
Engineered Products
In total, 11 deals were completed in the engineered products industry, making it one of the two most active sectors in November. The largest transaction was the acquisition of BWG Holdings I Corp. for $218.5 million.
Healthcare
With 18 completed transactions, the healthcare industry was the most active one. The most significant deal was the completed purchase of MyoKardia by Bristol Myers Squibb for $13.1 billion. This was also the largest completed deal in November across all industries tracked by FirmoGraphs.
Other industries
In the automotive industry, Lordstown Motors Corporation's reverse merged with DiamondPeak Holdings Corporation, valued at $1.6 billion.

Largest Transactions
Three Biggest Transactions in November by Deal Value
| | | | |
| --- | --- | --- | --- |
| Acting organization | Target Organization | Industry | Deal Value |
| Bristol Myers Squibb | MyoKardia, Inc | Healthcare | $13,100,000,000 |
| Berkshire Hathaway Inc | Dominion Energy Inc | Gas Utility | $8,000,000,000 |
| DiamondPeak Holdings Corporation | Lordstown Motors Corporation | Automotive | $1,600,000,000 |
Announced Future Deals
In addition to completed transactions, FirmoGraphs recorded almost 40 announced future deals, including 12 multi-billion transactions. Among the announced deals, the most notable are:
The $44.0 billion merger between S&P Global and IHS Markit. This is the largest announced deal recorded by FirmoGraphs this year. Expected to be completed in 2021, this merger will create a data and analytics giant. The deal will combine two complementary businesses, with expertise covering a wide span of industries, which is very important in the era of constantly increasing demand for data and data-related services;
Stonepeak Infrastructure Partners' planned acquisition of Astound Broadband for $8.1 billion;
The announced merger between Cano Health and Jaws Acquisition Corp. valued at $4.4 billion;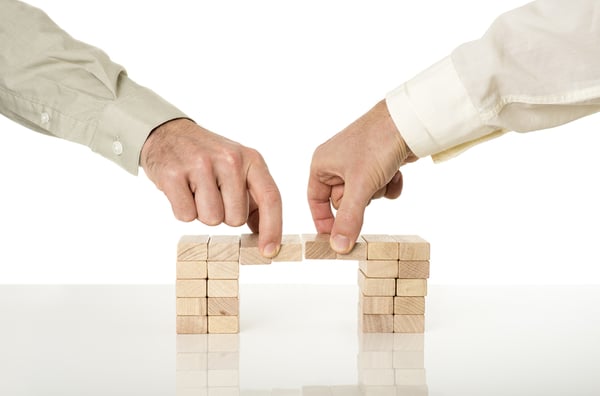 Conclusion
FirmoGraphs watches North American industrial news and curates a normalized version of monthly merger and acquisition information. This way, you can leverage the Merger Mart along with others, such as Power or Water, to generate your own unique observations for the US industrial market.
Our favored BI solution, Qlik Sense™ Enterprise, makes mashing-up multiple data sets fun and easy. Our customers find new opportunities to grow revenue, and reduce risk, by combining the Merger Mart with their own proprietary CRM and market data.
Having a good understanding of customer M&A activities can be key to the health of your business. Click here to learn more.