Dear Readers
We are pleased to share FirmoGraphs' North American Merger and Acquisition (M&A) Report for the month of June.
In the previous month we recorded recorded 65 completed transactions related to the North American M&A market in 12 different industries. With 20 completed deals, the Healthcare industry stands out again!
With 18 completed deals, Healthcare, again, came out on top! This is another COVID-19 direct consequence since many healthcare companies are trying to enter the immunology market.
As always, our focus is on those operationally-intensive industries that are of interest to our clients (utilities, manufacturing) rather than less asset-intensive markets (retail, banking).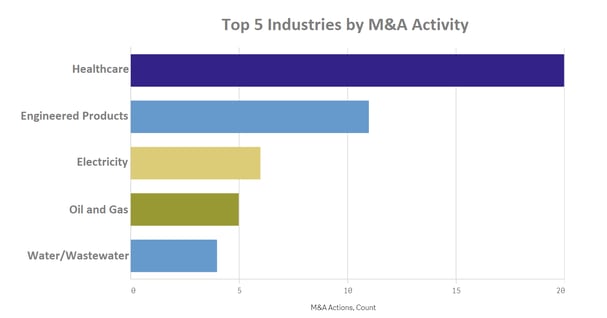 Utilities
There were 12 completed transactions in the utility industry in the month of June. Among those deals, the most significant one was the purchase of CenterPoint Energy Services by Energy Capital Partners for $400 million.It's worth noting that regional companies of American Water continued with acquisitions in their respective states, with Californian and Hawaiian branches being active in June.
On the other hand, Infrastructure Investments Fund and El Paso Electric Company extended the termination date for their transaction to the beginning of September 2020, while waiting for the final approval of their transaction.
Oil Industry
The oil industry had five completed transactions in June, including finalizing the merger between Ecolab's upstream energy business (ChampionX Holding) and Apergy Corporation's subsidiary in a deal worth around $3.9 billion. Another big oil-related deal is approaching as Alaskan officials have approved Hilcorp's $5.6 billion worth acquisition of BP's assets in Alaska.
Engineered Products
Eleven transactions were recorded in June in the engineered products industry. The biggest completed deal was the $1.6 billion worth merger between Yageo and KEMET. It's worth mentioning that EU antitrust regulators have set a deadline to decide whether they will approve or further delay Alstom's purchase of Bombardier's rail division for almost $7.0 billion.
Healthcare
Once again, FirmoGraphs recorded the highest level of activity in the healthcare industry, with 20 completed M&A deals in June. However, although we had that many deals and some of them were really big, the most exciting deal was the one that is still incomplete - the acquisition of Tetraphase Pharmaceuticals. Although this deal is not significant in terms of deal value, we witnessed an interesting chain of events.
At the beginning of June, the first buyer, AcelRx Pharmaceuticals, withdrew due to a superior offer from Melinta Therapeutics. Melinta Therapeutics and Tetraphase Pharmaceuticals signed a merger agreement. However, at the end of the month, Tetraphase Pharmaceuticals terminated this agreement and signed a new one with La Jolla Pharmaceutical. During this process, Tetraphase Pharmaceuticals paid around $3.0 million just in termination fees. The following months will show if this is the end of this saga.
Other industries
Two transactions stand out among other industries. WESCO International and Anixter International completed their $4.5 billion worth merger, creating a massive logistics player. Also, Nikola and VectoIQ Acquisition Corp. completed their $3.3 billion worth deal that should boost Nikola's development in the zero-emission automotive industry.
We would also like to mention one more transaction that is not related to the North American market, but it's important at the global level. Saudi Aramco bought 70% of the petrochemical giant Saudi Basic Industries for $69.1 billion, making it one of the largest M&A deals in history.
Largest Transactions

Announced Future Deals
In addition to completed transactions, FirmoGraphs recorded 25 announced future deals in nine different industries. Among the announced deals, a few are particularly significant:
Ineos's acquisition of BP's global petrochemicals business for $5.0 billion;
Novo Nordisk's acquisition of Corvidia for up to $2.1 billion;
A merger between Hyliion and Tortoise Acquisition Corp. worth around $1.5 billion.
COVID-19 impact on the M&A market
The COVID-19 pandemic came as a surprise. Most of the world was unprepared, which led to massive negative overall effects. These effects include a considerable decrease in economic activity all around the world and a change in the way some industries will operate for at least some time during and after the pandemic. The M&A market was not immune to these effects.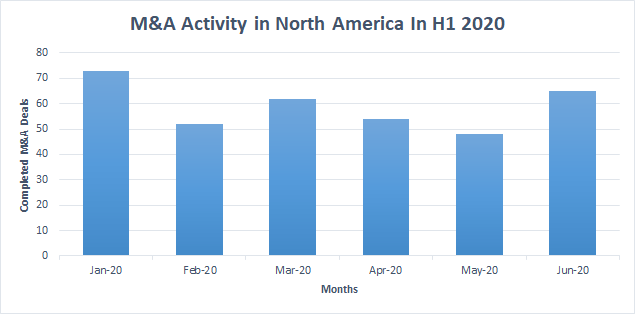 High uncertainty generated by the pandemic, has been the main factor that has led to a decrease in M&A activity across the North American continent. Many companies postponed their planned transactions. There were some terminations of agreed deals during the last few months.
Actually, FirmoGraphs recorded more terminations in April than in all other months combined. Some of those deals were huge deals, like the $6.4 billion worth merger between Hexcel and Woodward, or Boeing's planned deal to buy Embraer's commercial jets division for $4.2 billion.
All of this resulted in a steady decrease in M&A activity from March till May. It seems that the only industry immune to these effects is the healthcare industry, thanks to many COVID-19 related deals, mostly.
The month of June provided some hope since FirmoGraphs recorded the first increase in the market activity since the start of the pandemic. However, time will show if this was the start of the market recovery or just a false alarm.
On the other hand, one thing is certain - big investors, led by private equity funds, have been heavily investing and raising money for new investments during the last few months. They are trying to fill the gap on the buyers' side of the market, and they could be the leading force in the M&A market rebound in the near future.
M&A Cartoon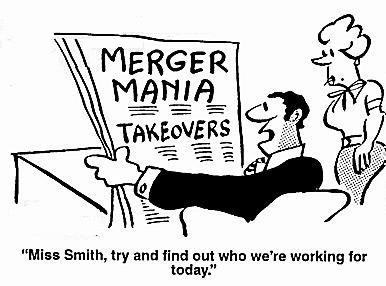 Conclusion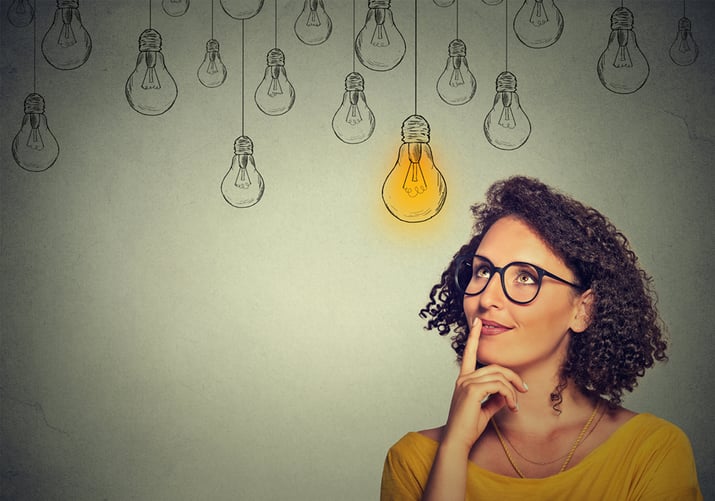 FirmoGraphs watches North American industrial news and curates a normalized version of monthly merger and acquisition information. This way, you can leverage the Merger Mart along with others (such as Power, Water) to generate your own unique observations for the US industrial market.
Our favored BI solution, Qlik Sense™ Enterprise, makes mashing-up multiple data sets fun and easy. Our customers find new opportunities to grow revenue, and reduce risk, by combining the Merger Mart with their own proprietary CRM and market data.
Having a good understanding of customer M&A activities can be key to the health of your business. Click here to learn more.
Wish to learn more about applying BI to your approach in the North American merger and acquisition tracking in the US utility? Please click here.
Click below to download our e-Book on 5 Critical Actions for an insight-driven marketing using Business Intelligence.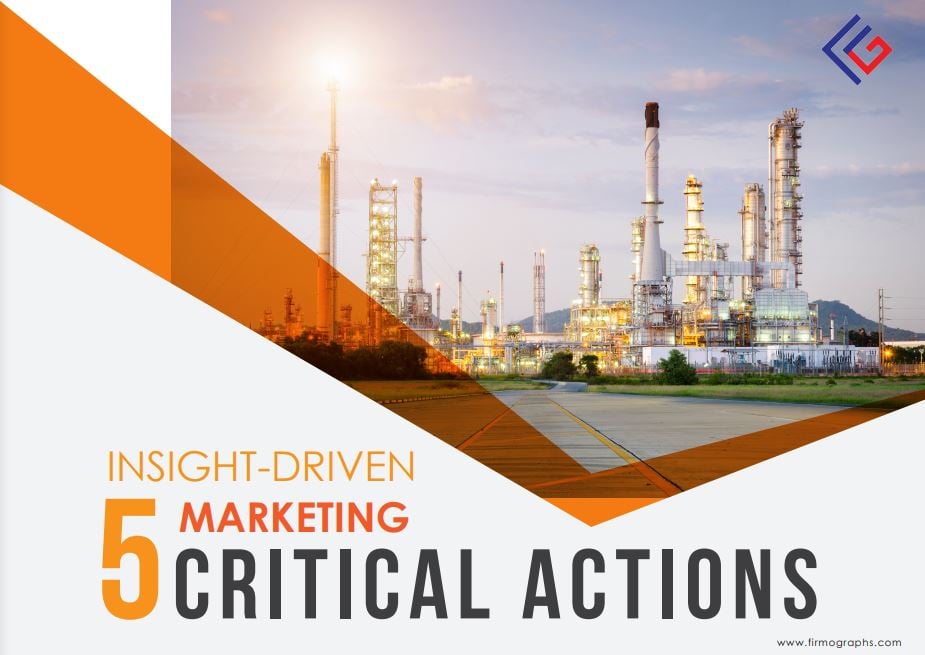 Disclaimer
None of the information we provide may be taken as legal advice. Please consult an attorney if you require a legal interpretation of this information.

Any information contained on this website or within any attachments is offered without representation or warranty as to its accuracy or completeness and FirmoGraphs, LLC cannot be held responsible for loss or damage caused by errors, omission, misprints or your misinterpretation of such information. Seek competent professional advice prior to relying on or utilizing such information in any manner as any such use is at your own risk.