FirmoGraphs tracks and analyzes thousands of blog posts from hundreds of companies each year, providing a window into the soul of engineering and company firm marketers. In this blog, we review the blogging habits in a brief and easy-to-understand form. Our coverage includes the blogging habits of architecture, engineering, and consulting (AEC) organizations listed in ENR's top 200 environmental firms.
2021 Overall Statistics
Of the 200 top environmental firms, 164 maintain regular blogs. During 2021, these organizations posted a total of 11,320 articles. We categorize blog posts according to their subject matter.
Qualifications and Staffing: these posts deal with the capabilities of a firm and individual staffers, hires, promotions, and other personnel changes, typically without deep discussion.
News posts include news about a firm, including M&A, awards, and events.
Projects posts primarily are about projects done for customers, who usually are identified but may also mention news or provide some insights.
Insights posts may mention news or projects but are more in-depth looks at one or more topics that highlight a firm's subject-matter expertise.
In the following chart, 42.6% (or 4,818) of the posts were News posts; 37.8% (or 4,282) were Insight posts; 8.4% (or 947) were Projects posts and another 11.2% (or 1,273) were Qualification & Staffing posts.
Blog Fraction by Type
The Most Popular Topics of 2021
FirmoGraphs maintains a list of hundreds of search terms of interest relating to the U.S. infrastructure and environment markets. In 2021, "sustainability" was the most-frequently used of our terms in AEC blogs. Other popular terms included data-driven management, transportation, mining, design build, and PFAS.
The Top 10 search term appearances in 2021 blogs are summarized below: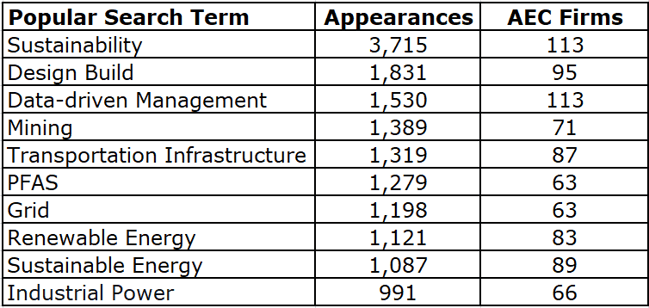 To read this table, sustainability was mentioned 3,715 times in the blogs of 113 AEC firms.
Sustainability
The following bar chart also shows the monthly break-up of these terms. In 2021, the "sustainability" search term appeared the most in November, or 372 times. We think that mainstream media conversations about climate change as well as other ESG considerations have led this to become the most talked-about topic, with a substantial and growing market for projects related to climate adaptation, renewable energy, and environmental sustainability.
"Sustainability" Search Term Frequency per Months
PFAS
In our last Blog o' Blogs, we mentioned how PFAS was one of the most talked-about topics in blog posts of the first nine months of 2021. For 2021, 63 firms mentioned PFAS nearly 1,300 times in 436 different blog posts. PFAS reached the highest spike in March, being mentioned 209 times, which was probably due to the Environmental Protection Agency issuing two actions on February 22 meant to address the presence of PFAS in drinking water. You can read all about it here.
"PFAS" Search Term Frequency per Months
Transportation
In November 2021, President Biden signed the Infrastructure Investment and Jobs Act that allocates $550 billion in new spending over five years to rebuild roads, bridges, rails, and airports, provide high-speed internet access, and address climate concerns. Therefore, it does not surprise the term that caused a lot of discussions was transportation infrastructure. Eighty-seven organizations mentioned it in nearly 1,060 blog posts. Also, in November, FirmoGraphs wrote a blog about it.
"Transportation Infrastructure" Search Term Frequency per Months
Who is Blogging
FirmoGraphs has also analyzed another aspect of the blogging habits of firms by annual revenue of their environmental practices. The following table illustrates how many companies are in each category, their blog posts in the whole of 2021, and the average number of posts for each category.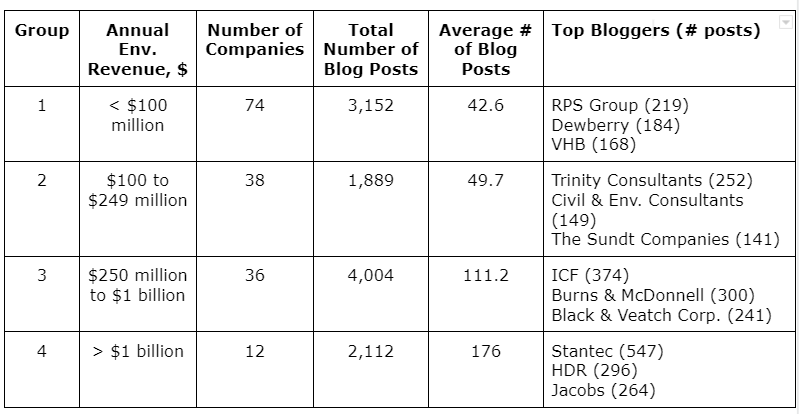 Table: Blog Counts by Environmental Revenue Size
It is interesting to note that the most-prolific bloggers are in the $250 million to $1 billion environmental revenue range, posting more than 4000 blogs in a single year. It is probably not too surprising that the largest firms, in the > $1 billion category, have the highest average number of postings at 176 / firm.
One final view here is provided by our preferred business intelligence tool, Qlik Sense™, where we've created a tree map that shows the Top 10 bloggers in the four topical categories. It can be interesting to see how different firms tend to emphasize different types of postings.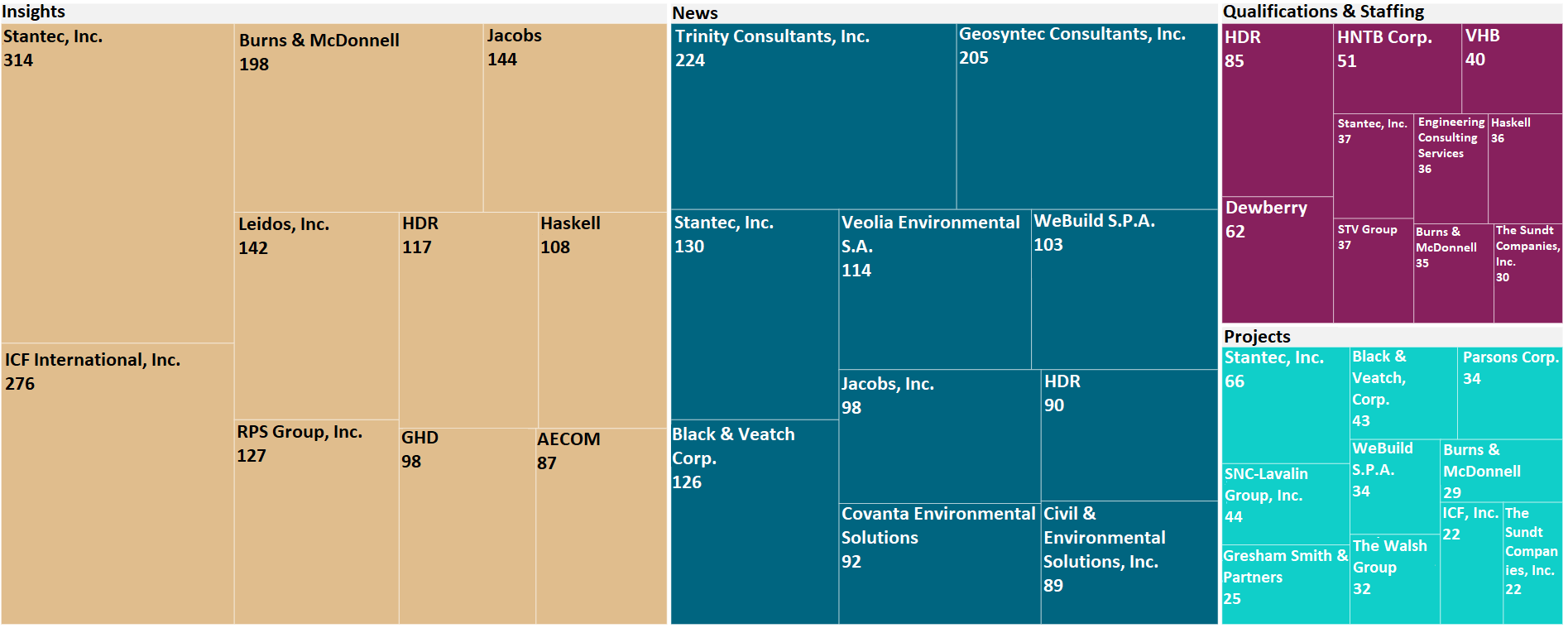 Let's Meet
In addition to blogs, which we cover as a 'fun' topic, our primary business is to collect and analyze data on infrastructure projects in the transportation, energy, water and environmental remediation sectors. We help you find project ideas, in your wheelhouse, months or years ahead of those projects being let.
Feel free to request a meeting to review our capabilities live.