In December, we recorded 62 completed transactions related to the North American M&A market in 12 different industries. The overall market activity was at a higher level than in the previous month. With 14 completed deals, the electric power industry was the most active industry.
As always, our focus is on those operationally-intensive industries that are of interest to our clients, like utilities and manufacturing.
2020 M&A, In Review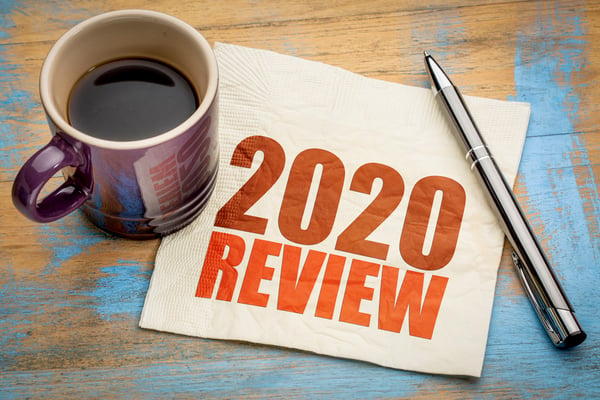 The past year was full of shocks and crises. The Covid-19 pandemic affected the world in unprecedented ways. But the pandemic was not the only thing that impacted the world. Nature reminded us more than a few times how fragile our climate has become. Additionally, our country experienced a wave of social justice movements and the presidential election.
It is not a surprise that businesses all over the globe were affected by those events. As an integral part of the business world, the North American M&A market responded as well. The first half of 2020 saw a significant decrease in M&A activity across most sectors. The number of both completed and announced deals slumped. We even had cancellations of some major deals due to the effects of Covid-19. The healthcare industry was one of the rare industries that didn't suffer a major step back in M&A activity. After all, healthcare couldn't and didn't stop during the pandemic.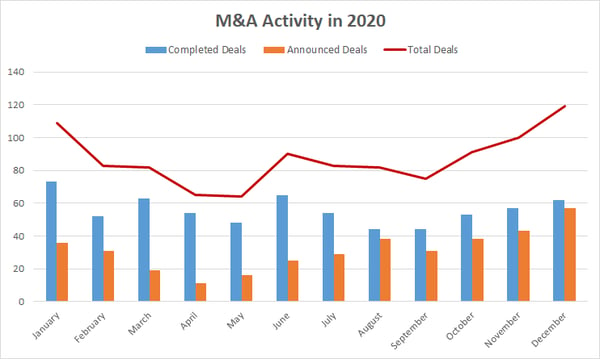 However, with the Covid 19 vaccine's increased likelihood, the market recovered in the second half of the year. Although FirmoGraphs recorded a similar level of completed transactions throughout the entire year, the number of announced deals strongly rebounded in the last six months of 2020. In the end, the level of M&A activity was lower than in the previous three years, but the end of the year promises a better year in the M&A market.
Ten Biggest Transactions in 2020 by Deal Value

Acting organization

Target Organization

Industry

Deal Value

United Technologies Corp.

Raytheon Co

Aerospace

$121,000,000,000

Saudi Aramco

Saudi Basic Industries Corp

Chemical

$69,100,000,000

AbbVie Inc.

Allergan plc

Healthcare

$63,000,000,000

T-Mobile US Inc

Sprint Inc

Telecommunication

$23,000,000,000

Danaher Corporation

General Electric

Healthcare

$21,400,000,000

Gilead Sciences, Inc

Immunomedics

Healthcare

$21,000,000,000

Bristol Myers Squibb

MyoKardia, Inc

Healthcare

$13,100,000,000

Prologis, Inc

Liberty Property Trust

Logistics/Transportation

$13,000,000,000

Brookfield Renewable Partners LP

TerraForm Power Inc

Electricity

$8,300,000,000

Berkshire Hathaway Inc

Dominion Energy Inc

Gas Utility

$8,000,000,000
There was also a massive rise of SPACs in 2020. SPACs were one of the market highlights in the last twelve months, and it seems they have a bright future.
Industry Updates

Utilities
The utilities industry was very active in the last month of the year. We recorded 20 completed transactions, the highest level of activity recorded by FirmoGraphs in the last two years. The electric power industry led the way, with 14 completed M&A deals. The majority of these deals revolved around renewable energy. This is consistent with investors' overall trend focusing more and more on renewable sources of energy and environmentally responsible projects.
When it comes to other areas of utilities business, we should mention Gas South's acquisition of Infinite Energy's wholesale and retail natural gas business. This deal will significantly spread Gas South's business in the southeastern U.S. doubling its nine figures annual revenue.
Oil Industry
In total, six completed transactions were recorded in the oil and gas industry. However, more important than all those completed deals was an approval of the $12.0 billion merger between Devon Energy and WPX Energy by their shareholders. This massive transaction was actually completed during the first week of 2021.
Engineered Products
Only four completed deals were recorded in the engineered products industry. The most significant one was Cleveland-Cliffs' acquisition of ArcelorMittal USA for $1.4 billion, creating the largest producer of flat-roll steel in North America.
Healthcare
As always, the healthcare industry was one of the most active ones. In total, 12 completed M&A deals were recorded in December. The largest completed transaction was Novo Nordisk's acquisition of Emisphere for $1.35 billion.
Other Industries
Among other industries tracked by FirmoGraphs, two deals stand out. Electric Vehicle developer Canoo Holdings and Hennessy Capital Acquisition Corp IV completed their $2.4 billion merger. Also worth mentioning is the established chemical joint venture between Sasol and LyondellBasell Industries in a deal worth $2.0 billion. These two deals were the two largest deals in December.
Announced Future Deals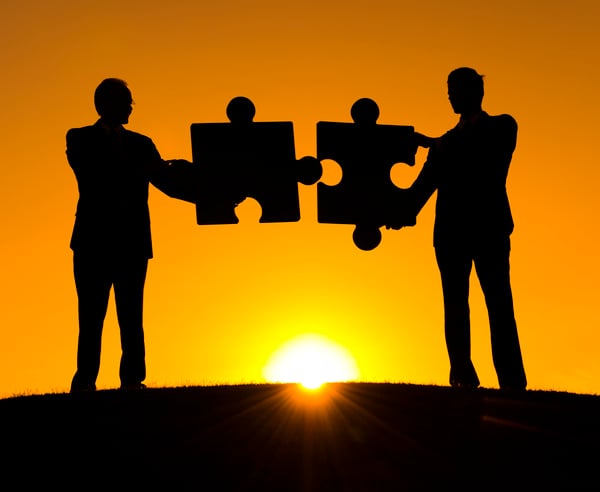 In addition to completed transactions, FirmoGraphs recorded almost 60 announced future deals, including 18 multi-billion dollar transactions. Among the announced deals, the most notable are:
AstraZeneca's acquisition of Alexion Pharmaceuticals for $39.0 billion;
Platinum Equity's planned acquisition of Ingram Micro for $7.2 billion;
Sempra Energy's purchase of the remaining stake in Mexican Infraestructura Energética Nova SAB de CV for $5.81 billion.
Conclusion
FirmoGraphs watches North American industrial news and curates a normalized version of monthly merger and acquisition information. This way, you can leverage the Merger Mart along with others (such as Power, Water) to generate your own unique observations for the US industrial market.
Our favored BI solution, Qlik Sense™ Enterprise, makes mashing-up multiple data sets fun and easy. Our customers find new opportunities to grow revenue, and reduce risk, by combining the Merger Mart with their own proprietary CRM and market data.
Having a good understanding of customer M&A activities can be key to the health of your business. Click here to learn more.