Dear Readers
We are pleased to share FirmoGraphs' North American Merger and Acquisition (M&A) Report for the month of May.
FirmoGraphs recorded 48 completed transactions related to the North American market in 14 different industries. May is the second consecutive month with lower activity than the previous month. Clearly, the pandemic has impacted the market.
With 18 completed deals, Healthcare, again, came out on top! This is another COVID-19 direct consequence since many healthcare companies are trying to enter the immunology market.
As always, our focus is on those operationally-intensive industries that are of interest to our clients (utilities, manufacturing) rather than less asset-intensive markets (retail, banking).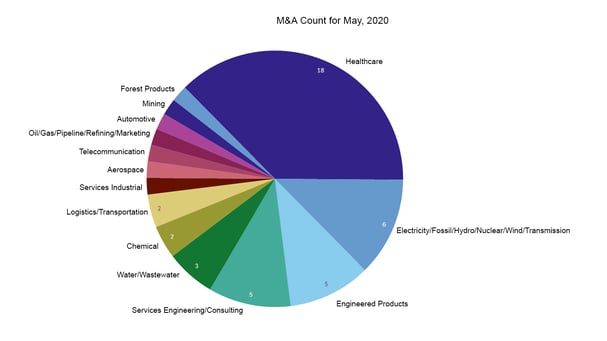 Utilities
As in the previous month, there were ten completed transactions in the utility industry in the month of May. However, none of those transactions made highlights. Illinois American Water expanded its presence in its native state with three new acquisitions. It acquired water and wastewater systems of the city of Rosiclare and villages Andalusia and Shiloh. Renewables were the center of attraction in the power/electricity sector.
Oil Industry
Only one completed transaction was announced in May. It was the National Fuel Gas Company's purchase of U.S. Appalachia Assets from Royal Dutch Shell for $541 million.
Engineered Products
FirmoGraphs recorded five completed transactions in the month of May in this industry. It's the lowest level of activity in more than a year. With the lack of major completed deals, the most significant event was Alstom's announcement that it is proceeding with a $6.7 billion deal with Bombardier under existing terms.
Healthcare
Healthcare was by far the most active industry in May, with 18 completed transactions. The biggest deal was the acquisition of Allergan by AbbVie in a deal worth $63 billion. This is one of the biggest M&A deals in the history of the healthcare industry.
Healthcare is one of those rare industries that haven't been drastically affected by the COVID19 pandemic. One of the reasons for that is that many big players are buying smaller developers of COVID19 related products.
Other industries
Among other industries, there's only one transaction that stands out. It was Leidos' purchase of L3Harris Technologies' Security Detection and Automation businesses for $1 billion.
Largest Transactions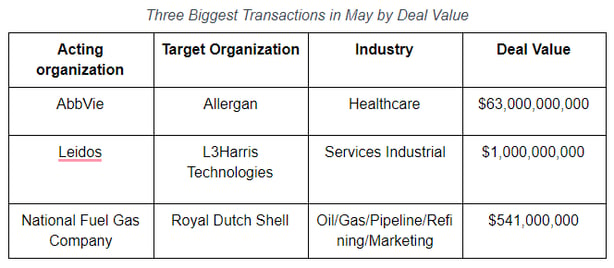 Announced Future Deals
In addition to completed transactions, FirmoGraphs recorded 16 announced future deals in six different industries. This is another result of high business uncertainty caused by the pandemic. Among announced deals, two are particularly significant:
SSR Mining's acquisition of Alacer Gold for $1.72 billion;
$1.41 billion worth merger between Alexion Pharmaceuticals and Portola Pharmaceuticals.
M&A Cartoon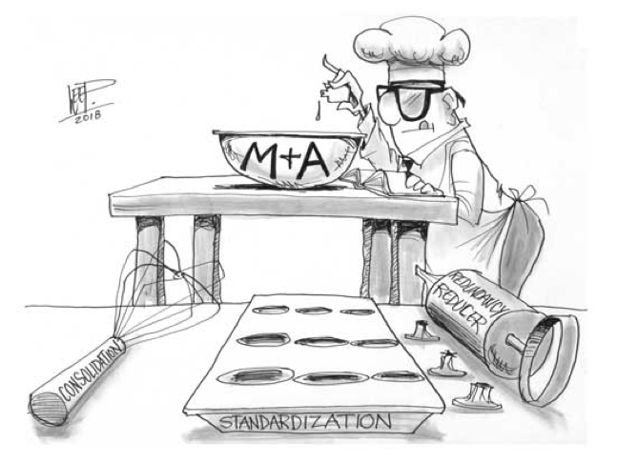 Conclusion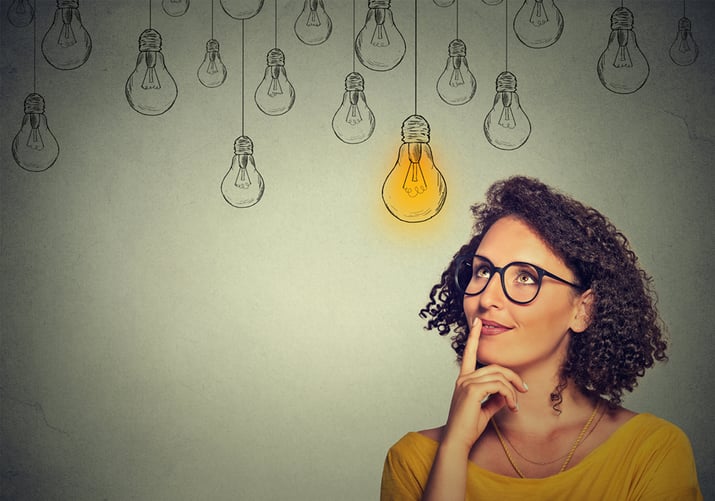 FirmoGraphs watches North American industrial news and curates a normalized version of monthly merger and acquisition information. This way, you can leverage the Merger Mart along with others (such as Power, Water) to generate your own unique observations for the US industrial market.
Our favored BI solution, Qlik Sense™ Enterprise, makes mashing-up multiple data sets fun and easy. Our customers find new opportunities to grow revenue, and reduce risk, by combining the Merger Mart with their own proprietary CRM and market data.
Having a good understanding of customer M&A activities can be key to the health of your business. Click here to learn more.
Wish to learn more about applying BI to your approach in the North American merger and acquisition tracking in the US utility? Please click here.
Click below to download our e-Book on 5 Critical Actions for an insight-driven marketing using Business Intelligence.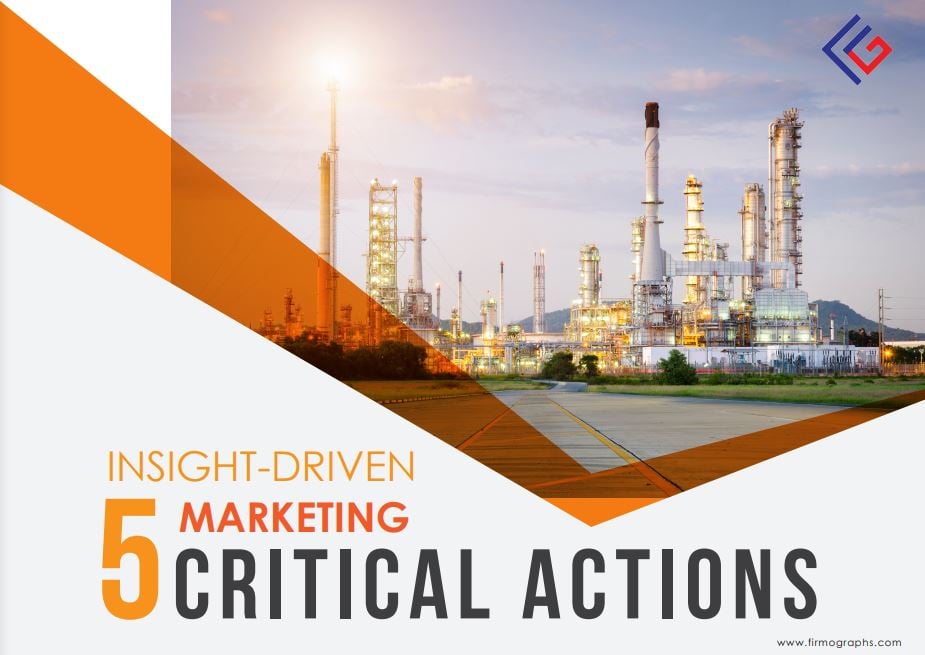 Disclaimer
None of the information we provide may be taken as legal advice. Please consult an attorney if you require a legal interpretation of this information.

Any information contained on this website or within any attachments is offered without representation or warranty as to its accuracy or completeness and FirmoGraphs, LLC cannot be held responsible for loss or damage caused by errors, omission, misprints or your misinterpretation of such information. Seek competent professional advice prior to relying on or utilizing such information in any manner as any such use is at your own risk.